Fifth Element Live
In 2012, at The Dark Room Theater in San Francisco, I put together a live stage tribute to the 90′s sci-fi farce The Fifth Element, reenacting most of the same story with more jokes... and I got to rewrite a few things that always bothered me about the original.
Here's a highlight reel. It shows off the energy of the performances, a few of my favorite jokes, the costumes Ralph put together with a tiny budget, and some idea of the staging that got such an epic film onto a stage the size of a parking space.
I'm so pleased, and it's a tribute to everyone involved how much still works so well in this context, but the edited version isn't going to make sense unless you really know the movie, and video can only capture a fraction of the excitement at seeing a show like this in person.
Here's an audio recording of the full show off the microphones mounted above the stage. Imagine it's what people would have heard tuning into Ruby Rhod's radio show in the world of the story.
Between that and the photos below, there's a little more idea of just how fun a show this was.
1
of 45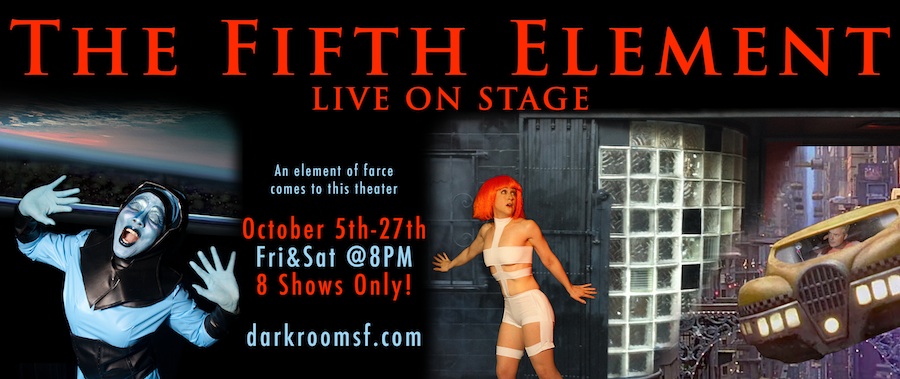 Photos by Cameron Thomas and Ira Emsig
Video shot by Douglas Wellman
Original press release follows:
NUMBERKAY PRODUCTIONS presents
The Fifth Element: Live!
SAN FRANCISCO, CA - An element of farce comes to town, in this adaptation of the lavish '90s sci-fi blockbuster that asks, who's got the stones to save the world?
When all life in the universe is threatened by an ancient evil, the perfect being engineered to stop it drops into the taxi flown by Korben Dallas, who just happens to be a former special forces Major down on his luck, and who is instantly smitten by his beautiful fare. That sets off the series of chases and gunfights that will bring him face to face with the blue Diva Plavalaguna, a spot on the super-green Ruby Rhod radio spectacular and an explosive all-expenses-paid vacation package.
Meanwhile, Father Vito Cornelius is the keeper of secret knowledge about four sacred stones needed to stop the evil, but they don't stay secret for long. The President sends in a government operation, and the fearsome Mangalore warriors launch an attack to get revenge on the ruthless weapons designer Jean-Baptiste Emanuel Zorg, who wants the stones for his own mysterious reasons.
Soon, there's officers in the fridge, a girl in the autowash shower and half the galaxy claiming to have the multi-pass that will get them two tickets to Fhloston Paradise, sponsored by Gemini Croquettes. It's a mad, mad, mad, mad universe.
Cast:
Matthew G. Nelson – Korben Dallas
Becky Hirschfeld – Leeloo, Various Voices
Ralph W. Hoy – Ruby Rhod
Shoresh Alaudini – Cat, Cars, Aknot, Mangalores
Thomas Apley – Mondoshawan, Cop, Right Arm
James Galileo – Zorg
Dene Larson – Luke Perry, Mactilburgh, Co-Pilot, Major Iceborg, Cop
Dave Moore – Staedert, Robot Bartender, Mr. Shadow
Gary Richmond – Professor, Munro, Cop, Pilot
Ted Speros – Priest, Vito Cornelius
Diane Trimble – Mondoshawan, President, Check-in Attendant, Stewardess, Hostess
Adam Vogel – David, Fog
Sean "Wiggles" Wigglesworth – Mugger, Ground Crew
and Marilynn Fowler as Diva Plavalaguna
Crew:
Timothy Kay – Adapter, Producer, Director, Sound & Prop Design
Rhiannon Charisse – Assistant Director, Lights
Shoresh Alaudini – Puppet Design
Ralph W. Hoy – Costumes
Dave Moore – Sound Tech
Sean "Wiggles" Wigglesworth – Stage Manager
ABOUT DARK ROOM THEATER: Founded by Erin Ohanneson and Jim Fourniadis in 2004 in the Heart of the Mission, the Dark Room is a one-stop shop for comedy, theater, events, entertainment, and rehearsal space with recording studio facilities for both pre- and post-production; and it has become the goto spot for stand up comedy and new talent. This is the theater of the Professionals--not professional theatre makers, but folks with day jobs who make the small stage their creative outlet. darkroomsf.com